B2B setup
Hybrid B2C & B2B
Ergonx has been operating in Australia for over 15 years selling foot pain and foot care products through national footwear retailers, podiatry clinics and online. In 2023, Ergonx were looking to level-up their online B2B offering and sought a new solution to streamline how they were managing B2B orders.

The challenge
Ergonx's B2B operation was running on a WooCommerce solution that was plagued by numerous challenges, primarily due to the need for an extensive array of plugins and 'workarounds' to deliver what they required. As is the case with many third-party plugins, many clashed, leading to compatibility issues, sluggish performance, and a constant need for maintenance. This not only drained their in-house resources but also left them with limited time to focus on improving their products and B2B customer experience.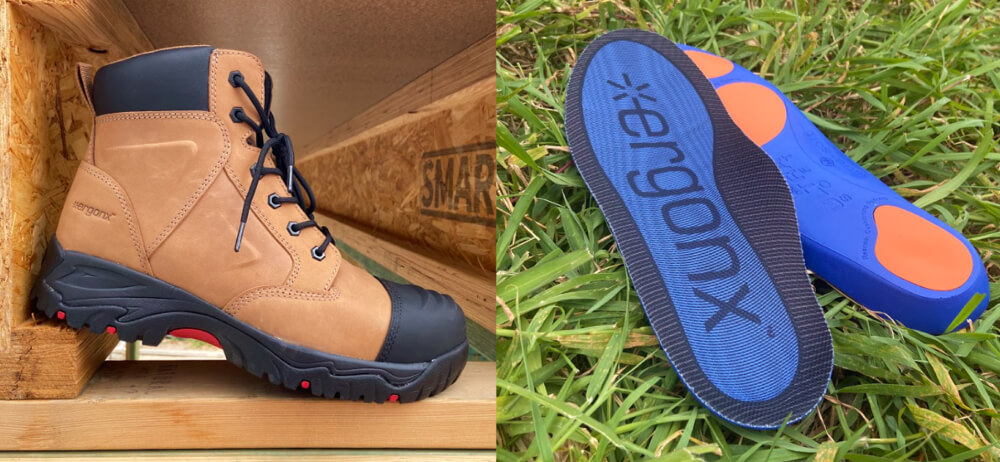 The solution
Ergonx knew they wanted to migrate their eCommerce solution to Shopify and to do this quickly. They were able to rapidly implement SparkLayer into a blended DTC & B2B Shopify store and were able to enable a brand new B2B channel to accelerate their growth. With SparkLayer installed, this has now allowed:
Self-service ordering for customers with 24/7 access
Customers have full visibility of pricing as well as volumetric pricing tiers and pack sizes
Customers can fully manage their accounts such as track orders and repeat purchase
Sales Agents can process orders on behalf of a retail store - eliminating the load on reception and support staff
Custom pricing for each customer group has allowed them a more efficient way to manage pricing in a more granular method. CSV uploads for product pricing has allowed them to achieve the exact B2B pricing rules they require for their customers
Using Shopify in parallel to SparkLayer, the speed of the site has been greatly improved, running quickly and smoothly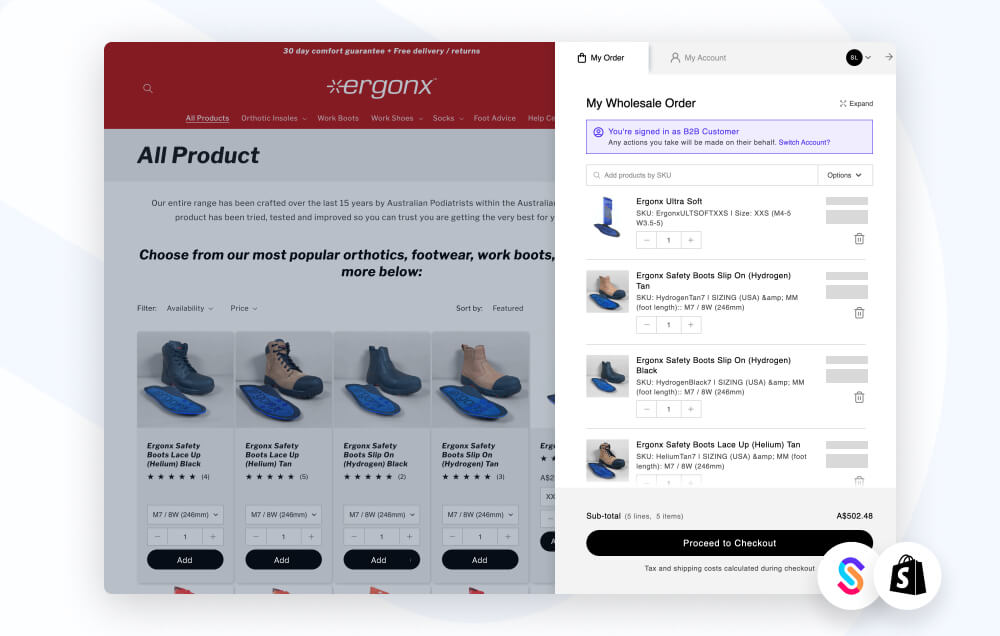 The results
Since adopting Shopify and SparkLayer, Ergonx's eCommerce operations have been transformed. The most notable change has been the absence of website issues and the remarkable improvement in website speed thanks to Shopify's robust performance under-the-hood.
From a B2B perspective, one of the most significant benefits of SparkLayer has been the simplicity and reliability it offers. With fewer plugins to manage and a more intuitive interface, Ergonx has significantly reduced the time and effort required for maintenance and can start focusing on growing their B2B sales.
With SparkLayer integrating seamlessly with Shopify, this has brought a number of other key improvements:
All B2B orders are pushed directly into their fulfillment software, negating the need to input orders manually
Customers can place orders 24/7, 7 days a week when they need to place an order urgently
The cost of ongoing maintenance on their B2B website has reduced by over 50%
Products are far easier to setup and manage ensuring B2B customers are always kept up to date with the latest offerings
Ergonx can now confidently add new B2B customers knowing that they will be shown the correct pricing, the correct content and get a great experience. B2B customers are regularly saying how much they enjoy the new B2B ordering process!
"We recently switched from WooCommerce and WordPress to SparkLayer and Shopify for our B2B ecommerce needs, and the results have been nothing short of remarkable. SparkLayer has proven to be a game-changer for our B2B eCommerce needs. The elimination of compatibility issues, the speed and cleanliness of our website, and the newfound freedom to focus on core business activities have all contributed to our satisfaction. If you give SparkLayer the time to do a sincere trial (setup customers, pricing, tagging, wholesale shipping ect…) there is no reason to use any other wholesale app. My advice would be to try SparkLayer first and save yourself a lot of time testing other B2B software. " ~ Kent Elliot, Founder & Director of Docpods Pty Ltd and Ergonx
Explore more
To learn more about Ergonx, their comfortable work boots, orthotic insoles, and the story of their brand, visit their website here.
To see how SparkLayer works with Shopify, you can explore via the links below:
Chris is an experience eCommerce specialist, co-founding UK eCommerce agency blubolt in 2006. For over a decade, Chris helped build and oversee their proprietary platform and worked with some of the UK's fastest growing retailers. At SparkLayer, Chris oversees the product strategy and - when he's not playing peekaboo with his daughter - enjoys staying active with golf, tennis, climbing, and hiking to name a few!