B2B eCommmerce (business-to-business) varies from B2C eCommerce (business-to-consumer) in a variety of ways; from the type of customer that uses the website, the average order values and order volumes, the systems that are integrated behind the scenes, the order flow from placing an order through to dispatch, right through to the user-experience on the website. One element of B2B eCommerce that is fundamental to success is the speed of ordering.
By the very nature of B2B eCommerce, the target customer has typically one goal in mind when placing orders online; to get through the process as efficiently as possible. Whilst it's extremely important to provide a well-designed, information-rich, and usable website, the goals of B2B customers vary substantially to standard B2C customers. By making your website as self-service as possible and providing time-saving tools, you can reduce administrative overheads (e.g. customer service) and empower your B2B customers to take control of their online ordering. This guide runs through some of the key features you should be thinking about.
Importing orders in bulk with CSV imports
First up, importing orders! When B2B customers place orders, the total number of product SKUs can quickly run into the dozens, if not hundreds. This can be a time consuming process if product SKUs have to be added one by one. One way to allow customers to add items to their order quickly is by using CSV file imports.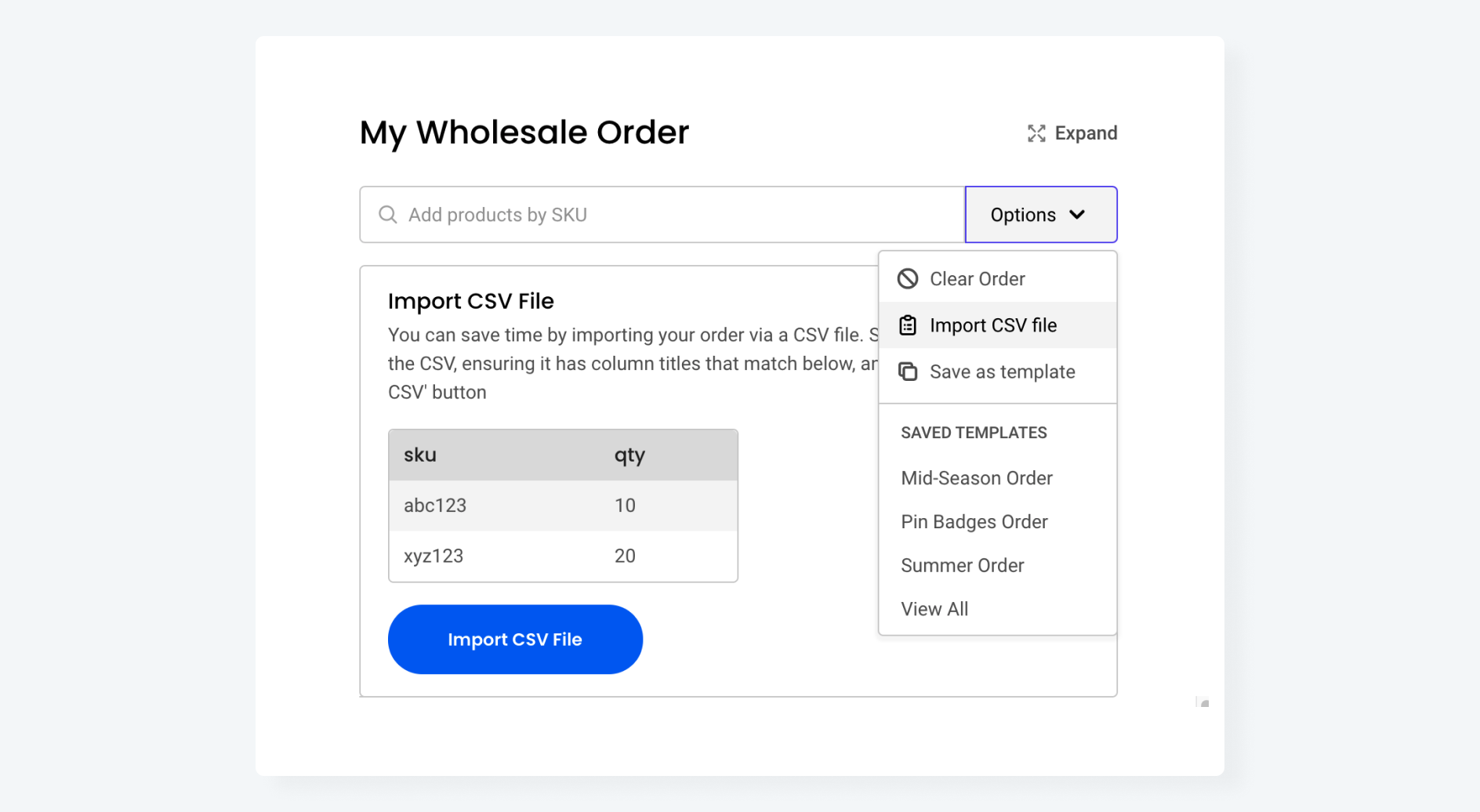 CSV file imports let B2B customers quickly upload a specially formatted file that populates the contents of their order in a matter of clicks. Customers can very quickly retrieve pre-existing CSV files or create new ones, upload them via your B2B website, and then make further edits before finalising their order.
SparkLayer has CSV file imports built in and you can learn more about how CSV file imports work in our help guide.
Saving orders as shopping lists
It's common within B2B eCommerce for customers to re-order the same items each time they place orders with you. Perhaps it's a regular replenishment order for the same product SKUs, or they require the same product SKUs for scheduled seasons (e.g. Christmas). Shopping Lists are a way for B2B customers to really easily save the contents of their order and quickly apply it any time they shop online.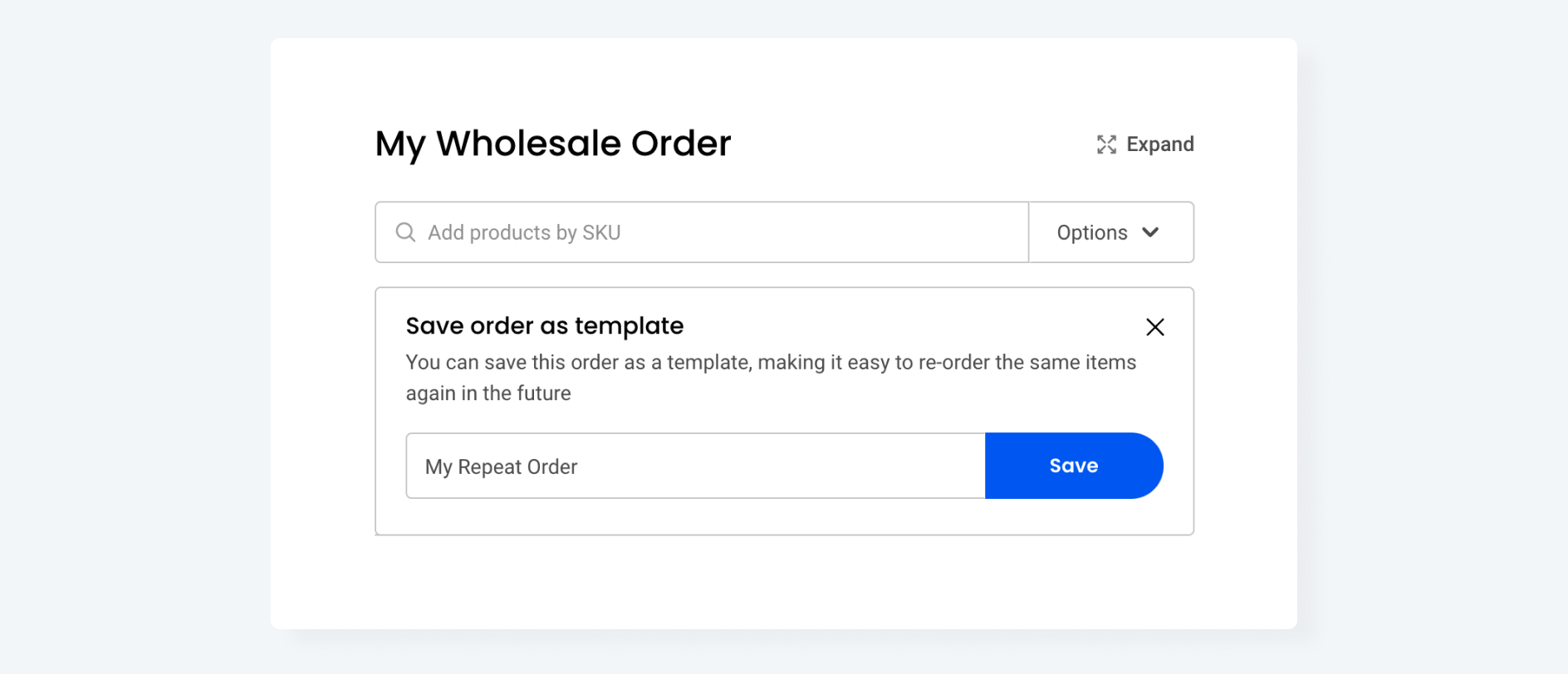 As B2B customers populate the contents of their order, ideally there should be a simple way to save the order as a shopping list. On SparkLayer, you can save an order as a shopping list when viewing the Quick Order Cart and, at any point, apply the shopping list either as a brand new order, or adding the items to an existing one.
You can learn more how this works on SparkLayer in our help guide.
Order history and order tracking
Having visiblity of orders B2B customers place is a great way to reduce unncessary administration overhead. Full order tracking gives visibility of their order totals, payment method, tax breakdown, as well as order status tracking.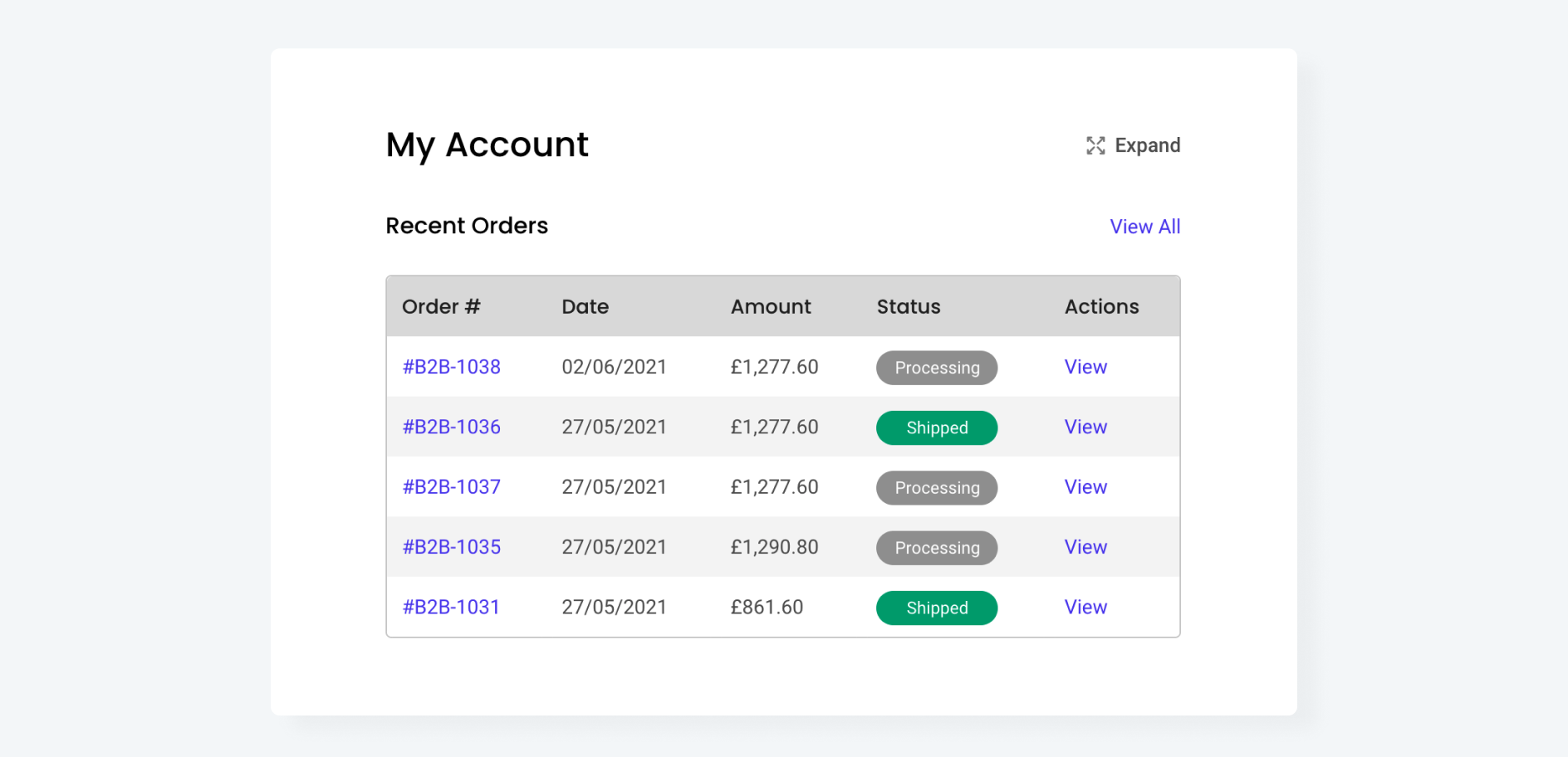 It's important that the order information is accurate for the customer; this means that product and pricing data should reflect their agreed pricing and payment terms, and order status details should be fed directly from the systems that manage the order processing flow.
With SparkLayer, B2B customers can see their full order history, check the order status at any point, and even re-order in a single click. You can learn more how this works in our help guide.
Flexibility in payment methods
How your B2B customers pay online may vary based on the ordering rules you set up. For example, you may have varying minimum and maximum order values, different payment methods, even different shipping methods.

Giving your customers visibility of what these rules are ensures their ordering experience is as streamlined as possible. Payment methods form part of this; if your B2B customers are allowed to pay by different payment types (e.g. pay on invoice, pay by card), make sure your B2B website is set up to allow customers to make this choice.
SparkLayer can be configured to automatically show available payment methods based on different B2B customer groups. You can learn more how this works in our help guide.
Fast ordering from anywhere
Whereas for B2C ordering, customers may browse a product detail page and then add items to an order, there are more touchpoints for B2B ordering. Some B2B customers will prefer to add items via some variety of 'Quick Order Cart', some will add directly from product detail pages, others from collection listing pages.

It's important to make sure all touchpoints are set up for fast ordering. This means ensuring that anywhere where product information is shown, B2B pricing is clearly displayed as well as the abillity to add items to an order.
SparkLayer lets you add special widgets to your B2B website that enhance any product location with a simple ordering interface. Learn about the SparkLayer Frontend in our help guide.
This is by no means an exhaustive list of time-saving tools for B2B eCommerce, but we hope you've found this guide useful and it has given you some food for thought!