B2B setup
Standalone B2B store
For over 60 years, Robert Welch Designs has been designing cutlery, kitchenware, tableware and other unique products for the home and are synonymous with their iconic design and attention to detail.
This month sees them release their brand new B2B store, powered by Shopify and SparkLayer!

The challenge
With their B2C store recently migrated to Shopify Plus by UK Shopify agency blubolt, Robert Welch were looking to consolidate their retail and trade eCommerce operations all within Shopify, rather than run two separate platforms. Key to them was ensuring B2B data could be synchronised with their backend systems, whilst delivering a great customer experience similar to that of their B2C (retail) store.

The solution
Three solutions were central to delivering Robert Welch's new B2B store. Shopify Plus as the foundation of their platform, Patchworks to ensure smooth data connectivity between their ERP (Khaos Control) and Shopify, and SparkLayer to connect to this B2B data and deliver the frontend B2B customer experience to allow their trade customers to place orders online. With this all in place, their new B2B store now allows:
Customer specific pricing, fed directly from their ERP
Offline payment methods that allow customers to place orders on account
Online payment methods that can be used for proforma customers
Customisable design with an easy-to-use customer experience
Sales Agent ordering to place orders on behalf of their customers
Full synchronisation with their B2C (retail) store to make ongoing management easy, using existing third-party Shopify apps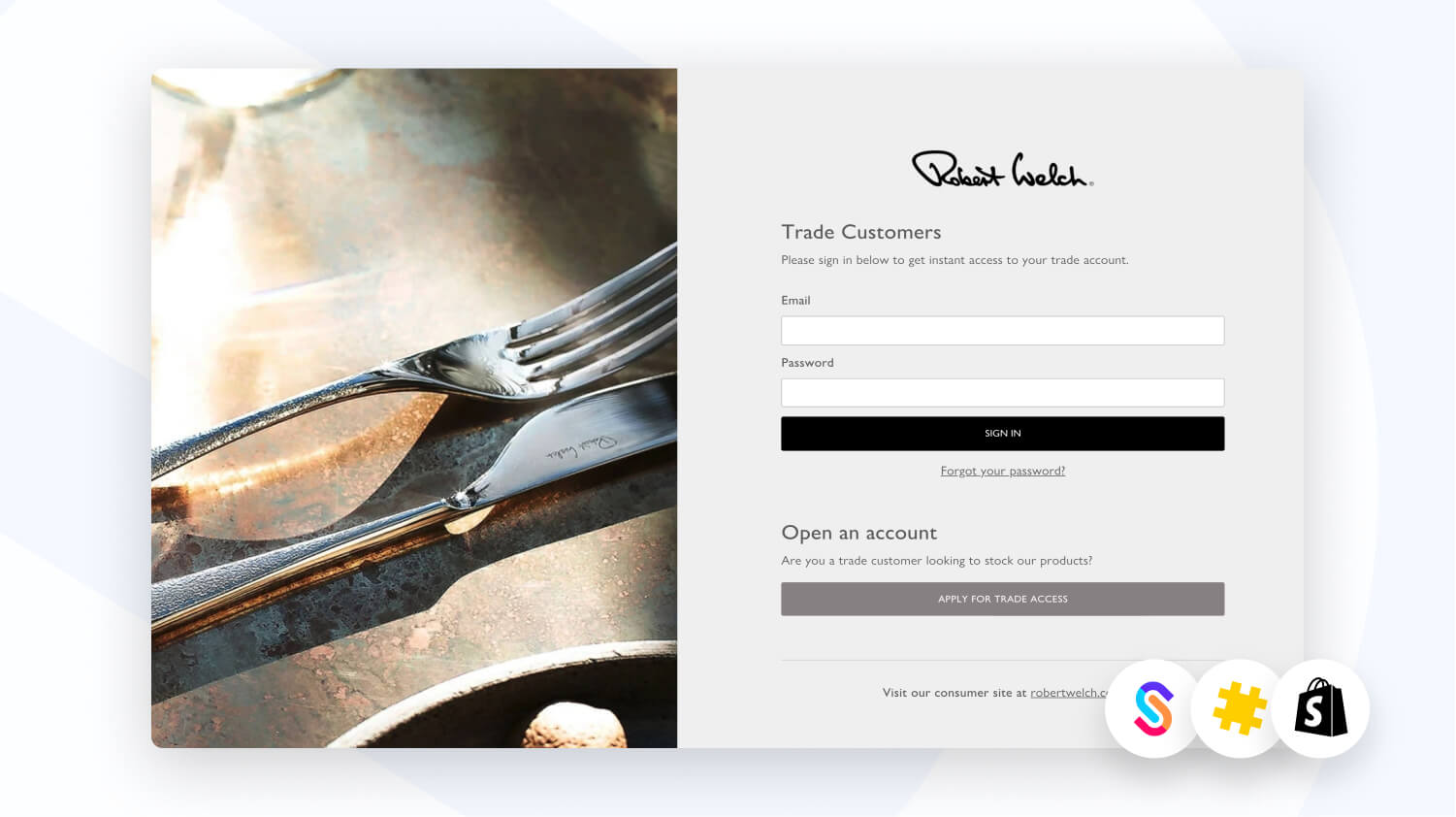 With their new Shopify and SparkLayer B2B store launched, Robert Welch now have a more consolidated and feature-rich solution that sets strong foundations for their B2B channel to grow.
Being able to offer a Shopify website experience to our B2B customers is a real game changer for our business. The end users are provided with a much improved UX, our internal team can maintain the site with ease, and moving forward we look forward to benefiting from the ever evolving SparkLayer functionality! - Ed Smith, IT Director
To see their new website in action, visit the Robert Welch B2B store
Explore more
To learn more about how SparkLayer works with Shopify, you can explore via the links below: