Industry
Beauty & Cosmetics
B2B setup
Hybrid B2C & B2B
Two Dudes is a New Zealand based cosmetics company that makes natural men's products for hair, body, and face. This month sees the launch of their new B2B channel to support their growing retail operation.
Two Dudes' mission is centred around the belief that every man deserves to use premium quality products that are simple to use, easy to understand, and accessible. From every sale, 10% of the profits are donated to one of their men's health charity partners, who they actively work with to make a difference to men's health in New Zealand.

The challenge
In November 2020, Two Dudes launched their DTC brand on Shopify and, soon after, began to expand into wholesale, working directly with retailers.
Operationally, their B2B sales were very manual and labour intensive and a key pain point was a lack of automation, including:
Customers ordering by email, which meant having to manually translate email text into orders
Customers did not have good visibility of pricing and volumetric tiered pricing could be difficult to explain
Heavily manual process in order to gather and track data related to B2B orders
No integration with our fulfilment software which meant B2B orders had to be uploaded manually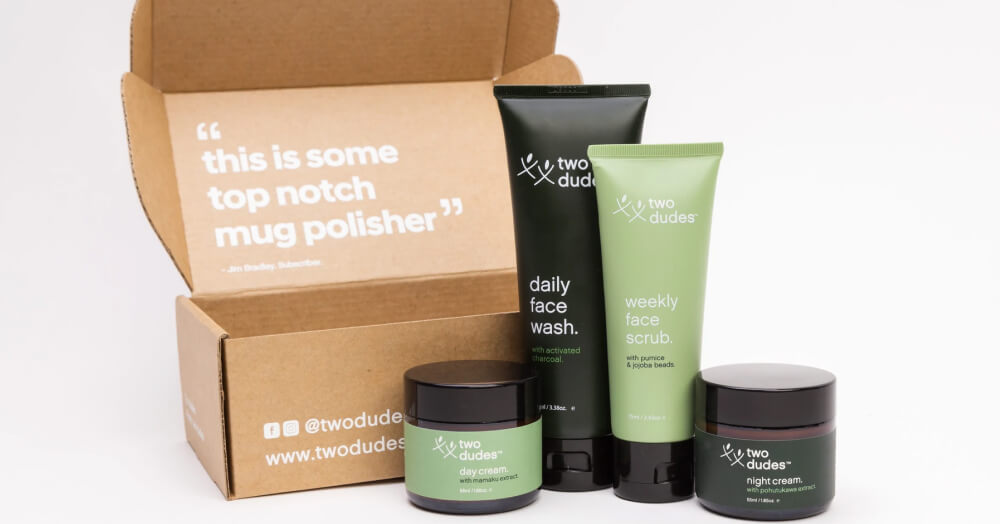 The solution
In early 2022, Two Dudes implemented SparkLayer into their Shopify store and within a matter of weeks were able to enable a brand new B2B channel to accelerate their growth. With SparkLayer installed, this has now allowed:
Self-service ordering for customers with 24/7 access
Onboarding new customers is much easier with the sign up form
Great visibility of pricing + volumetric pricing tiers and pack sizes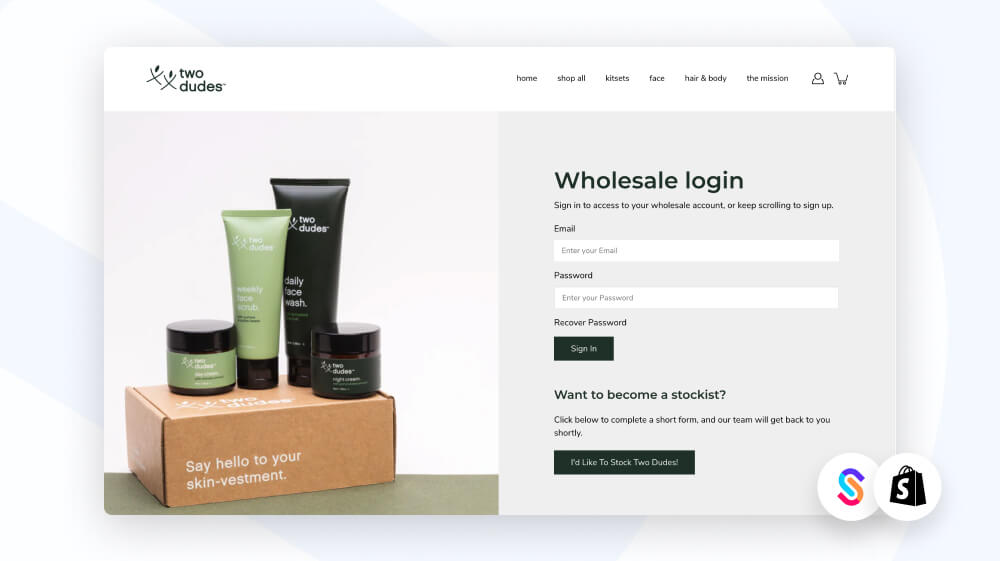 With SparkLayer integrating seamlessly with Shopify, this has brought a number of other key improvements that were previously handled manually.
All B2B orders are pushed directly into their fulfilment software, negating the need to input orders manually
Using the Shopify Analytics, all B2B data and key metrics can be tracked
With their Email Service Provider, all B2B customers and orders are segmented, allowing automated email flows for more efficient customer service.
At my previous job I was a Product Owner for a B2B E-Commerce solution. We went deep on understanding customer pain points and built a bespoke solution from scratch. It took around 12 months and a big budget. When I came across Spark Layer I genuinely thought it was too good to be true, because it solved 99% of these pain points via an app utilising our existing D2C website assets. Even when the team were helping us to complete installation it felt like there had to be a catch... but it never came. I genuinely can't believe how good this solution is, offering brands an easy way to service their B2B customers without having to build anything new. Love your work, team! - Tomas Tappin, Co-Founder Two Dudes
To learn more about Two Dudes, you can visit their website.
Explore more
To see how SparkLayer works with Shopify, you can explore via the links below:
Chris is an experience eCommerce specialist, co-founding UK eCommerce agency blubolt in 2006. For over a decade, Chris helped build and oversee their proprietary platform and worked with some of the UK's fastest growing retailers. At SparkLayer, Chris oversees the product strategy and - when he's not playing peekaboo with his daughter - enjoys staying active with golf, tennis, climbing, and hiking to name a few!