Contents
---
Introduction
Shopify's eagerly anticipated B2B product was launched in mid-2022 with a fresh new name, B2B on Shopify. The update now gives merchants using the Shopify Plus plan a more integrated way to enable B2B ordering on their Shopify store.
B2B on Shopify supersedes the previous Shopify Wholesale channel, which for many years has been a non-starter for any merchants wanting to take B2B seriously. The new Shopify B2B product brings a more robust feature-set natively to Shopify and unlocks core improvements such as price lists, payment terms, and a new concept called 'Company profiles'.
With this in mind, what does this mean for merchants who want to now more seriously consider Shopify for their B2B operation?
Core principles
One of the first things to note is B2B on Shopify is exclusive to Shopify Plus merchants only. If you're not using Shopify Plus, it won't be possible to access any of the features without upgrading plans.
For those already on Shopify Plus, or in the process of upgrading, the new B2B functionality gives merchants the ability to create 'blended' B2C and B2B experiences (what we term hybrid) or a standalone B2B experience using Shopify Plus expansion stores.
The big takeaway for merchants (and Shopify developers) is they now have the ability to deliver a more customized look and feel, previously not possible using the prior Shopify Wholesale channel. Approaching the initial store setup (i.e. hybrid or standalone) still remains a fundamental decision when beginning a B2B project and it's an area we've covered in detail before such as how to handle stock control and B2B-specific content requirements.
---
Key functionality
The new B2B on Shopify includes the release of 5 core features at this stage, straddling major updates to both the Shopify admin area and a number of frontend-focused additions. With the changes to the Shopify admin, you won't find a dedicated 'B2B area'; instead the new features are absorbed into existing core sections such as 'Customers' and 'Products' with the familiar Shopify admin interface merchants are already used to.
Let's quickly run through some of the new features.
1. Price lists (Catalogs)
One of the core limitations with Shopify has been the ability to set price lists for products that vary based on who the customer is. The new price list tool, called "Catalogs", gives merchants the ability to set different pricing rules more easily, either via the Shopify interface directly, via CSV uploads, or via an API. Ordering rules such as minimum and maximum quantities can also be set against products, allowing customers to add products to an order in bulk more easily.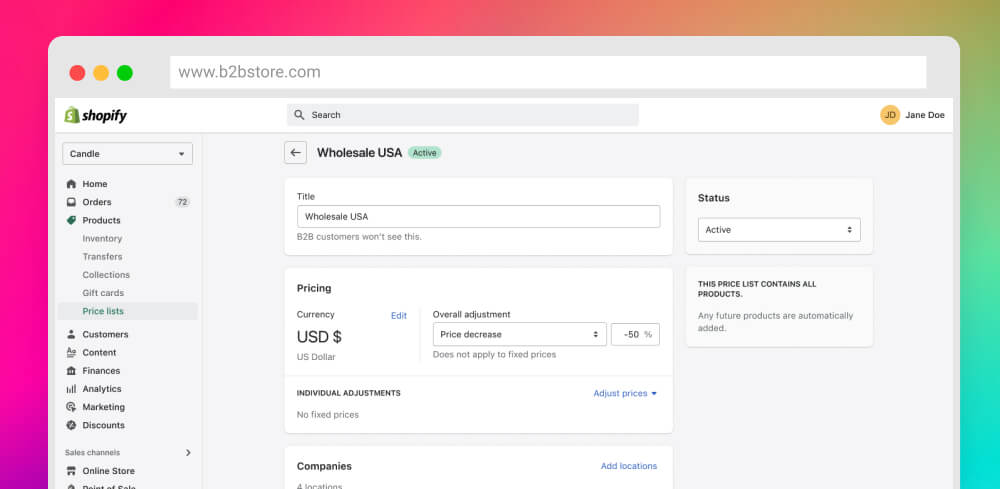 2. Company profiles
Company profiles are where you manage and set the rules for the overarching companies that have access to your B2B store, allowing you to configure payment terms, view order history, assign customers who have access, and set price lists and tax rules. The big change here is giving merchants a more centralised location to keep track of their B2B customers.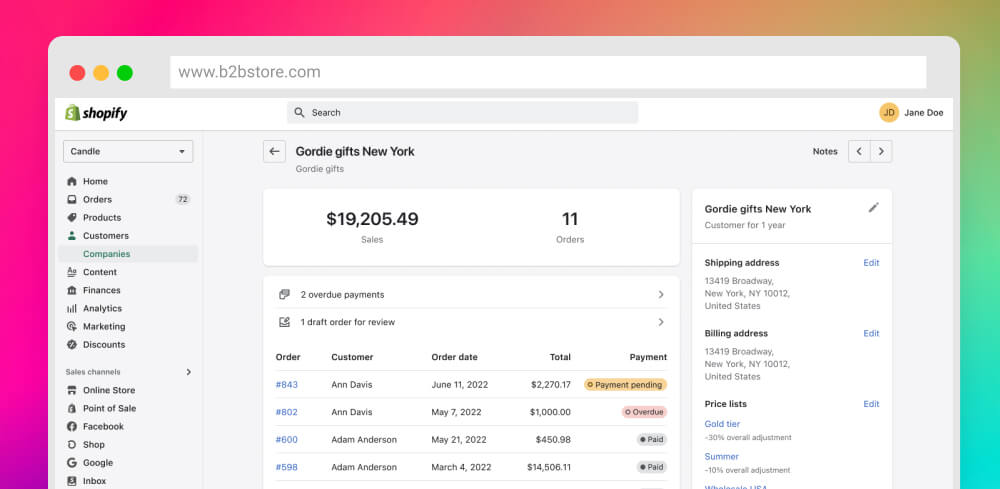 3. Payment terms
Generally speaking, within B2B eCommerce, B2B payments vary to the standard B2C customer experience, typically managed via special payment terms. Within a 'Company profile', it's now possible to set specific payment terms such as 'Net 30', 'Net 45, etc. Once set, the customer will then see their payment terms via the checkout process and can then place an order without needing to make a card payment (as with the B2C checkout experience).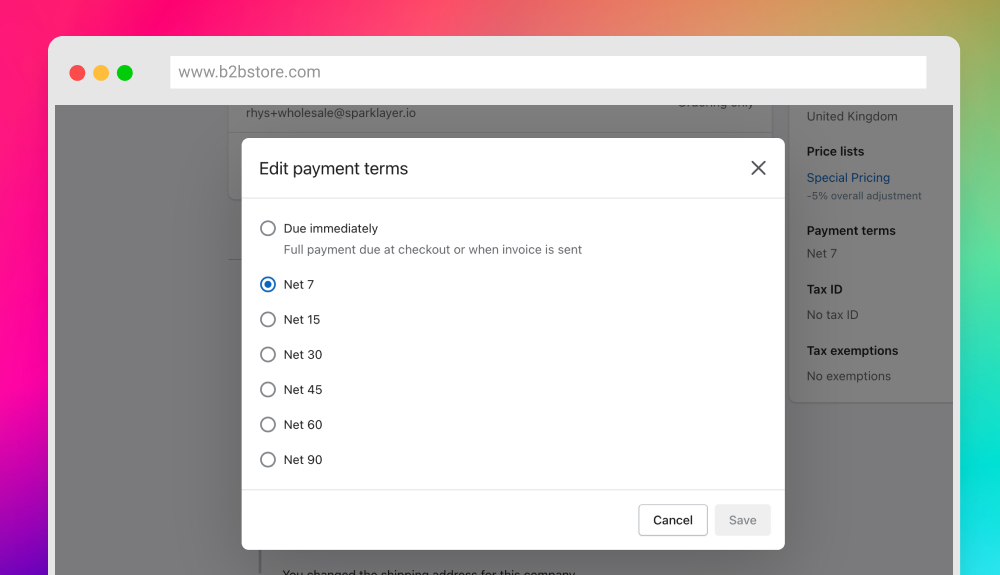 4. Checkout
The B2B on Shopify checkout is largely the same Shopify checkout merchants are familiar with. The key difference is that assigned payment terms will automatically display for the customer and, if they have multiple addresses assigned, they can more easily specify which address they are placing the order on behalf of.

5. Self-service
What Shopify terms as 'self-service' is effectively a basic account area that allows customers to sign in, manage their profile, view their order history, and manage their address book (if they have permissions to so). From an order management perspective, the order history feature gives B2B customers a full overview of their order (e.g. products ordered, order total), the payment terms they've been assigned, and when payments are due. From the account area, customers and then able to make payment against an order by going through the standard Shopify checkout process and selecting one of the merchant's existing payment methods. Customers can also repeat orders straight from within their account order history.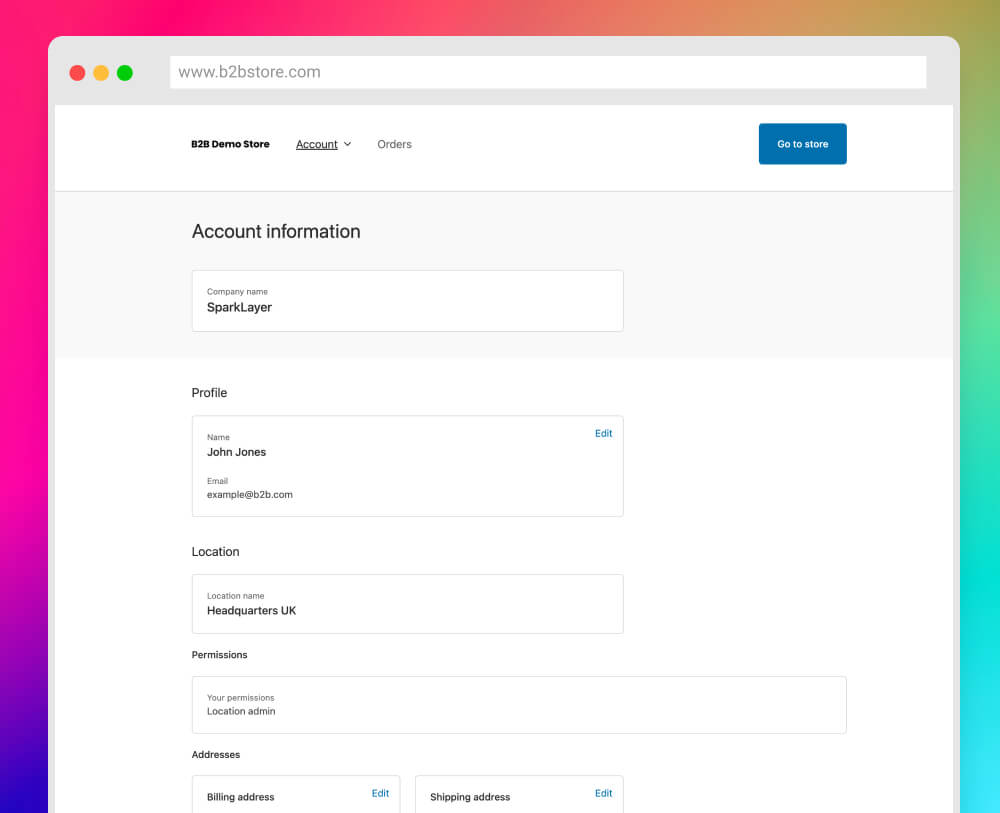 One major limitation is the lack of customisation available. Similar to the locked-down Shopify checkout process, the B2B for Shopify account area is a one-size-fits all interface that makes use of a standardised layout that all Shopify merchants must use. In our video below, you can see how this works from start to finish (and how it also compares to using SparkLayer!)
In terms of B2B customers making payment via their account area? In reality, it's rare that merchants will want customers to actually make payment via their Shopify store (largely due to high transaction costs and card fees) and these are typically managed offline via methods such as BACs/ACH. However, the the account area overall does give the end-customer more visibility on their account status.
How does it compare to using Shopify + SparkLayer combined?
It's important to preface any comparison by acknowledging that these are positive improvements within the Shopify platform. After all, SparkLayer was born out of a frustration because Shopify had so many limitations when serving B2B merchants!
When evaluating which solution is right for merchants, there are a number of important considerations to factor in.
1. Shopify Plus exclusivity
As mentioned at the start of this guide, merchants must be on the Shopify Plus plan to use any of the B2B on Shopify features. This will have an impact on cost if you've been previously using other Shopify plans such as Shopify Basic or Advanced. By default, all features and functionality of SparkLayer is compatible with all Shopify plans.
2. Feature-set
Simply put, the B2B on Shopify update unlocks features that are largely already available via SparkLayer such as B2B payment methods and checkout, and a self-serve my account area. What it doesn't cater for are the more advanced features that B2B merchants may require (pack sizing and tiered pricing to name but a few) as well as the components required to actually deliver a B2B ordering experience (e.g. product page quick ordering). Furthermore, tools such as Sales Agent Ordering make a compelling case for SparkLayer, enabling sales teams to rapidly manage customer accounts and place orders on their behalf. To see how they compare, we've included a full feature comparison below.
How
SparkLayer & Shopify

go hand-in-hand.

With SparkLayer set up on your Shopify store, you can bring a world-class experience to your B2B customers. Best of all, SparkLayer works with all Shopify plans. See how they compare below.
B2B Features

What B2B merchants need

Shopify

Standard functionality

Shopify Plus

"B2B on Shopify"

Shopify + SparkLayer

When combined together

Pricing

(Price lists, discounts, pricing rules)

Product-specific pricing

Ability to set custom pricing for product SKUs and to vary these across customers

Percentage price adjustments

Ability to set percentage discount rules against products and to vary this across customers

Customer-specific % discounts

Ability to set customer-specific percentage discounts that apply on top of price lists

Multiple price lists

Ability to set multiple price lists against a customer and for the lowest price to win

Multi-currency pricing

Ability to set price lists up for different currencies, e.g. USD, EUR, GBP

Tiered quantity pricing

Handling for quantity price-breaks (e.g. buy 3, save 10%) on parent and variant level

Pack sizing and unit quantities

Configuration of product pack sizes, minimum and maximum order quantities

Display pricing as NET

Ability to specify and display all pricing to B2B customers as net pricing (versus gross)

Product-specific discounts

Ability to set additional discounts that apply on top of price lists

Customers

(Self-service, payments, configurations)

Shopping lists

Ability for customers to create custom shopping lists to quickly populate orders

Quick ordering

Ability for customers to rapidly populate an order from collection and product detail pages

Quick re-ordering

Ability for customers to track orders, re-order quickly from previously placed orders

Credit and balance management

Ability to set credit limits against customers and display live balances

CSV order importing

Ability for customers rapidly import an order via a CSV file

Order history and tracking

Ability for customers to see their order history and live shipping tracking

Address book management

Ability for merchants to configure whether or not specific customers can edit addresses

Customer-specific payment methods

Ability to set specific payment methods on a per-customer basis versus at a company-wide level.

B2B-only products

Ability to configure which products B2B customers see when logged in

B2C stock reservation

Ability to reserve stock for B2C customers if using a hybrid B2C & B2B store

Rapid multi-product ordering

Ability to add multiple SKUs and quantities to an order in 1-click

Company profiles

Ability to assign customers to a company and configure their shipping & billing locations

Orders

(Payment types, shipping, configurations)

Payment by invoice terms

Flexibility to set payment terms against a customer (e.g. net 15, net 30, net 60)

Payment on account

Ability to allow customers to place orders on account, using their live credit balance

Request for Quote

Ability to allow customers to place orders as quotes that can then be editted

Order total rules

Ability to configure minimum and maximum order totals before placing an order

B2B-specific shipping rules

Ability to configure specific shipping rules for B2B customers on a hybrid B2C & B2B store

Order flow

Orders placed by B2B customers can optionally be routed as draft orders or completed orders within Shopify
Sales Agent Ordering

Login as a customer

Ability to login as a customer to manage their account.

Place orders as a customer

Ability to place orders on behalf of a customer at their B2B prices.

Manage shopping lists

Ability to manage shopping lsits on behalf of a customer and save their favourites.
Store setup

(Configuration)

Combine with B2C

Allow B2C and B2B to be managed and run from a single Shopify store

Ready-made frontend widgets

B2B ordering interface that can be enabled rapidly via code snippets

Low maintenance cost

Ready-made widgets and components that don't require custom development

Full customisation of frontend experience

Customise and configure Shopify store and build a bespoke experience

Optimised for mobile and tablet

Frontend experience fully compatible with mobile and tablet devices

Advanced tools

(Sales Agents, reporting, integrations)

Sales agent ordering

Allow sales agents to login and place orders on behalf of specific B2B customers

Custom API for integrations

API access to build custom integrations for ERPs, CRMS, PIMs

Analytics and Segmentation

Ability to segment B2B orders and customers and to analyse data
3. Custom development
Whilst the self-service elements on B2B on Shopify enable a useful account area for B2B customers, the actual ordering experience needs to be carefully considered beyond this. If you're using B2B on Shopify as a foundation, you'll need to think carefully how you'll design and build B2B-specific interfaces for areas such as:
Each of these will require extensive development resource to design, deliver, and maintain. You'll also need to consider how you'll implement and develop more complex ordering rules such as pack sizing, product-restrictions, and how tiered pricing can be achieved.
All of these interfaces come as standard with SparkLayer and require no additional development resource to implement.
4. Speed of Deployment
B2B projects obviously vary in complexity and it's important to do the work upfront to understand where resource needs to be focused. Much of the time is typically spent building out B2B interfaces (see point 3 above) and connecting to backend systems to ensure B2B data flows to the right place.
One of the huge benefits of SparkLayer is speed of deployment. It's not uncommon to see implementations completed within a matter of weeks, even with complex requirements around pricing and customer rules. The net result is a faster time to market for B2B merchants and a far lower cost of implementation versus other solutions.
5. Maintenance & evolution
The hidden cost to all B2B implementations is the ongoing maintenance. If you're needing to build custom interfaces to deliver the B2B experience you need, you'll need to factor in how this will be maintained, documented, tested, and reviewed going forward to ensure there's no impact to the B2B ordering experience.
SparkLayer is centrally managed, maintained, and fully supported, with a constantly improving feature-set and a public-facing roadmap that's based on real-life requests from our customers. It may be harder to ascertain what's coming down the pipeline with other platforms.
6. Integrations
Whilst an improved price list tool and 'Company profiles' will be of benefit to merchants, the reality is both are typically automated and managed via a merchant's backend system (e.g an ERP or CRM). If a merchant is already used to managing both of these via existing systems, it's unlikely they'll use these new tools to replace their existing 'source of truth'. This means that building a direct integration is still integral when building your B2B store and SparkLayer's REST API makes it possible to seamlessly integrate with most systems to automate data flows.
---
Explore more
B2B on Shopify is certainly a move in the right direction for Shopify and gives merchants a more comprehensive way to deliver their B2B store, albeit with a number of caveats. As a starting point, it solves the previous limitations around setting up customised B2B pricing but there are major gaps around the actual B2B ordering experience.
For now, merchants need to carefully think through their B2B requirements to see if B2B for Shopify is the right fit from them at this stage; from how they manage the complexities of pricing (e.g tiered pricing), how tightly they need their systems integrated, as well as how they to deliver a first-class customer experience on the frontend of their website. Each of these have huge complexities and there is by no means 'one size fits all' when it comes to B2B eCommerce!
As our own roadmap continues to evolve, we're happy to discuss in more detail how the combination of SparkLayer and Shopify can work for you and address your B2B challenges and goals. Please feel free to get in touch to arrange a demo!
Chris is an experience eCommerce specialist, co-founding UK eCommerce agency blubolt in 2006. For over a decade, Chris helped build and oversee their proprietary platform and worked with some of the UK's fastest growing retailers. At SparkLayer, Chris oversees the product strategy and - when he's not playing peekaboo with his daughter - enjoys staying active with golf, tennis, climbing, and hiking to name a few!