Industry
Medical Supplies
Founded in 2017, Ford Medical is a major supplier of medical supplies to healthcare providers and professionals. Over recent years, in response to increasing demand, Ford Medical have grown their eCommerce operation with the launch of three separate stores to support their growth (B2C and B2B).

The challenge
With a dedicated sales team for their wholesale customers, Ford Medical needed to find a robust solution to suppor their ambitious plans. Previously using the Shopify Wholesale channel, they found it didn't provide enough flexibility and functionality for their requirements: from processes around shipping orders to customers, to how pricing structures were managed and maintained.
The solution
In mid-2022, Ford Medical implemented SparkLayer into their dedicated Shopify store and were able to enable a brand new B2B channel to accelerate their growth. With SparkLayer installed, this has now allowed:
A well-designed website which has greatly improved the look and feel of the wholesale portal and overall customer experience
Customers have full visibility of pricing
Self-service ordering for customers with 24/7 access
Sales agent ordering which now offers real-time guidance from the FordMed customer service team as they onboard new customers.
Customers can fully manage their account such as track orders and repeat purchase
Modifications were made to allow Fordmed customers to have hundreds of addresses for a single bill to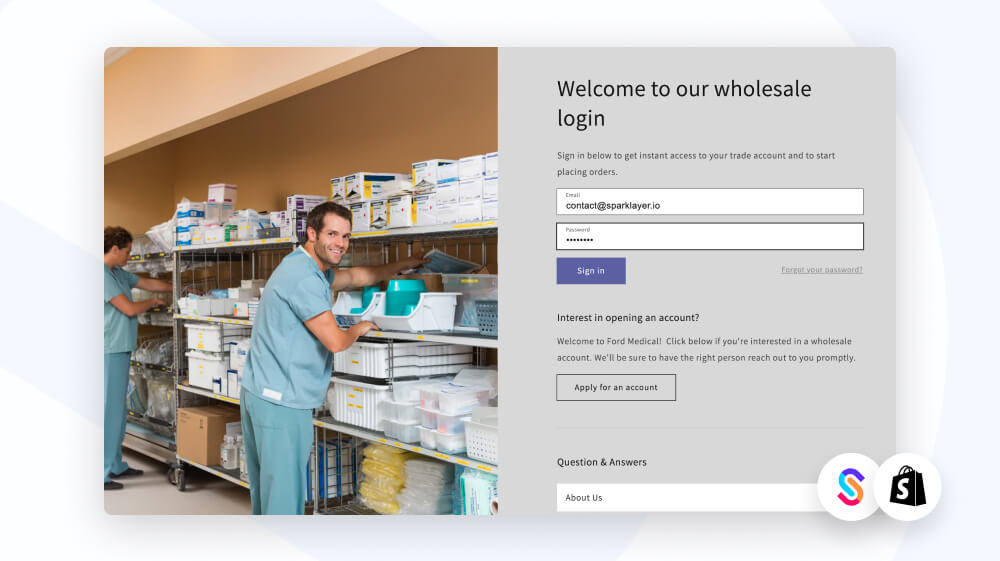 With SparkLayer integrating seamlessly with Shopify, this has brought several other key improvements to Ford Medical:
All B2B orders are pushed directly into their fulfillment and ERP software SellerCloud, negating the need to input orders manually using the correct pricing.
SparkLayer and Shopify combined are compatible with the TaxJar Shopify app, ensuring all tax calculations are correct.
Using Intuitive Shipping with SparkLayer has enabled a live connection to FedEx shipping rates, allowing different shipping rates per customer group.
"The SparkLayer team worked closely with us during onboarding to ensure their solution worked for us and our customer base. Their consultancy and support team have been extremely helpful! ~ Dovid Cohen, CTO
To learn more about Ford Medical, their product range, and the story of their brand, visit their website.
Explore more
To see how SparkLayer works with Shopify, you can explore via the links below:
Chris is an experience eCommerce specialist, co-founding UK eCommerce agency blubolt in 2006. For over a decade, Chris helped build and oversee their proprietary platform and worked with some of the UK's fastest growing retailers. At SparkLayer, Chris oversees the product strategy and - when he's not playing peekaboo with his daughter - enjoys staying active with golf, tennis, climbing, and hiking to name a few!