B2B setup
Hybrid B2C & B2B
Good George Brewing started in 2012 along with a rush of other breweries who opened around that time in New Zealand - the great wave of craft beer was coming! Fast forward to 2020 and Good George Brewing had exceeded expectations in growth… until the whole country was locked down during the Covid pandemic.
Overnight, Good George Brewing realised the power in setting up an online retail presence to sustain their operation and, post-Covid, a clear objective was born to apply the same online shopping principles to their wholesale customers.

The challenge
Prior to migrating to Shopify and SparkLayer, Good George Brewing had a very basic B2B online operation that was a side-product of the inventory management software they used internally, Cin7. Aside from being a native integration to the inventory management software, it had very few other benefits. The user experience was very poor, hard to navigate, and had no built-in capabilities to enhance the look and feel. Overall, the system was holding Good George Brewing back.
Key to their growth was enabling a system that would allow their customers to be easily onboarded and easy to use (to keep them coming back!)
The solution
With an existing Shopify store built and maintained by leading New Zealand Shopify Plus agency, Zyber, Good George Brewing implemented SparkLayer onto their existing setup, allowing a hybrid retail and wholesale experience under one roof.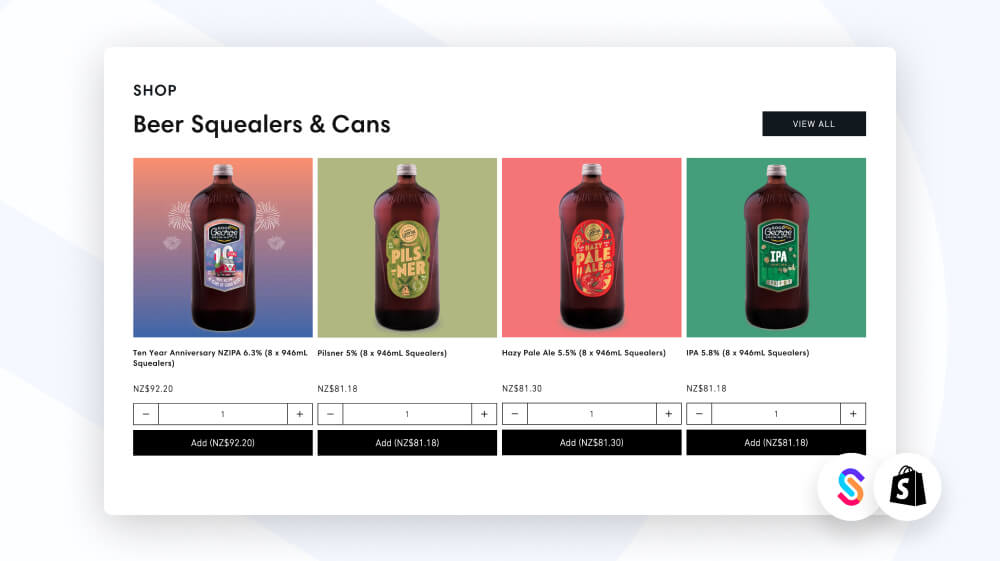 With SparkLayer installed, this has now allowed:
Self-service ordering for wholesale customers with 24/7 access, with over 300 onboarded so far
Wholesale customers have full visibility of pricing as well as volumetric pricing tiers and pack sizes
Wholesale customers can fully manage their account such as track orders and repeat purchase
With a tight integration with Klaviyo, they can in addition take steps to better understand their customers buying patterns before rolling out dedicated B2B email marketing and setting up automated flows.
The results
With SparkLayer integrating seamlessly with Shopify, this has brought a number of other key improvements:
All B2B orders are pushed directly into their fulfillment software, negating the need to input orders manually.
User navigation has been so simple that some customers have placed orders before even being sent instructions!
Sales reps can set up their customers on SparkLayer in record time, taking less than a minute
Pricing structures can now be more easily created and updated, saving time each month
Sales coordinators have saved time a previously manual onboarding processes, negating the need for emails and phone calls
"Sales Agent Ordering has been an incredible feature in showcasing this system to our customers, while also prompting an order during a sales call visit. Customers have enjoyed the ease of use, navigation, and experience of using our new online wholesale store!" ~ Ben Furmanski, Digital Marketing Manager, Good George Brewing
Explore more
To learn more about Good George Brewing, their product range, and the story of their brand, visit their website.
To see how SparkLayer works with Shopify, you can explore via the links below:
Chris is an experience eCommerce specialist, co-founding UK eCommerce agency blubolt in 2006. For over a decade, Chris helped build and oversee their proprietary platform and worked with some of the UK's fastest growing retailers. At SparkLayer, Chris oversees the product strategy and - when he's not playing peekaboo with his daughter - enjoys staying active with golf, tennis, climbing, and hiking to name a few!