Industry
Technical Equipment
B2B setup
Hybrid B2C & B2B
Oxford (UK) based E3D are industry leaders in the FDM desktop 3D printing market, developing and pioneering extrusion systems and nozzles for 3D printers. Founded in 2012, E3D have spent the last decade disrupting the market to become the go-to partner for FDM extrusion system needs, teaming up with some of the industry's largest OEM's such as Prusa, Creality and Ultimaker to name a few.
Coming into their tenth year of business with an ever-expanding portfolio of B2B customers, it was time to up their wholesale site game and provide their trusted customers with a seamless purchasing experience.

The challenge
Using Shopify's built-in "wholesale channel" meant that their B2B operation was very inflexible and, as a business, they weren't able to customise the sales channel to their needs. This made the wholesale side of the business look unprofessional, deterring customers from engaging and submitting orders. In addition, they were unable to offer a more tailored checkout experience for customers who had credit agreements in place and this became an overly manual process for the customer service and accounts team to manage.
The solution
E3D implemented SparkLayer onto their existing Shopify store and were able to enable a brand new B2B channel to accelerate their growth. With SparkLayer installed, this has now allowed:
Self-service ordering for customers with 24/7 access
Customers have full visibility of pricing as well as volumetric pricing tiers and pack sizes
Customers can fully manage their account such as track orders and repeat purchase
Ability to automate pricing updates for their various B2B customer groups
A tailored checkout experience with customer payment methods (e.g. payment on account)
Easy B2B pricing management using the SparkLayer built-in CSV upload tooling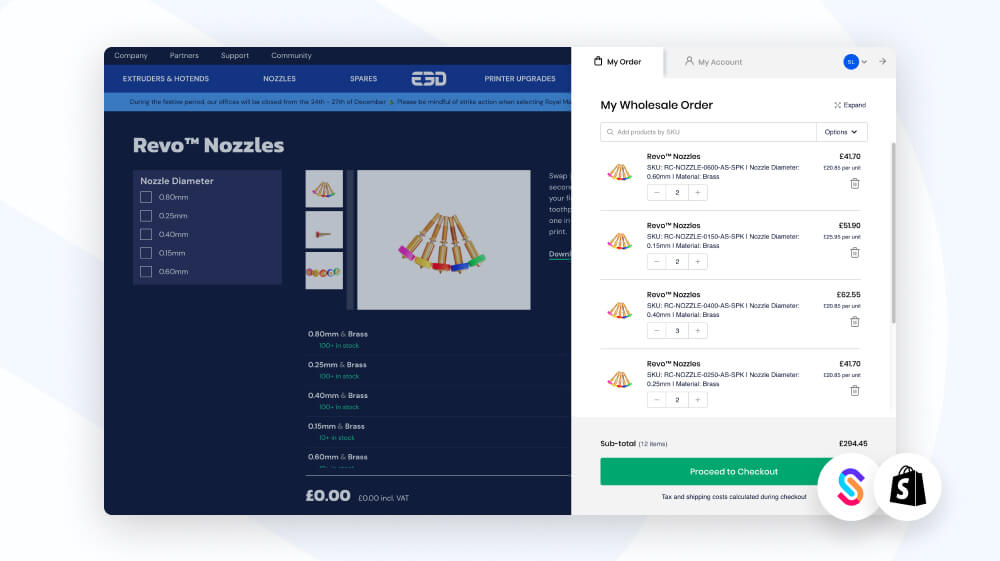 The results
With SparkLayer integrating seamlessly with Shopify, this has brought a number of other key improvements:
All B2B orders are pushed directly into their fulfillment software, negating the need to input orders manually.
Both the DTC and B2B selling channels now exist under one storefront, making it easier to maintain
There is regular positive feedback from their B2B customers with a big improvement from the previous Shopify wholesale channel
They are now able to sell B2B specific products and hide these from DTC (retail) customers
There has been a big reduction in manual actions from both the customer service and accounts departments
"Implementing SparkLayer was a quick, no hassle, painless process and the team were very quick to respond to our (many) questions! As part of our implementation, we needed minor development work done to work with our customised product display page and the team were happy to take on the development work (and all delivered on time and within budget!)" ~ Robert Chapman, E3D
Explore more
To learn more about E3D, their product range, and the story of their brand, visit their website.
To see how SparkLayer works with Shopify, you can explore via the links below:
Rhys possesses extensive experience in eCommerce and SaaS-based products, including leading fast and agile teams implementing high-level software architecture. He holds a BSc Hons in Computer Science from the University of West of England. Outside of work, Rhys enjoys outdoor activities such as climbing, urban exploration, hiking, and traveling, in addition to taking care of his feline companion at home!