We're excited to announce the launch of one of our most anticipated updates, our new Price Engine that gives SparkLayer customers powerful new ways to automate and streamline their B2B pricing rules.
The new Price Engine is the culmination of extensive feedback from our customer-base and a range of major performance improvements under-the-hood, making it one of the most powerful and flexible B2B pricing systems on the market.
Previously, SparkLayer gave customers the ability to manage pricing via CSV uploads and, for more complex integrations, automating pricing via the SparkLayer API. With the new Price Engine, SparkLayer customers can now:
Use pricing from their eCommerce platform (e.g. Shopify) to create automatic B2B pricing (e.g. set B2B prices to be 20% off Shopify prices)
Set up automatic pricing based off other price lists (e.g. 50% off your default price list)
Quickly download price lists to make edits and then easily re-upload
Edit pricing "inline" with our Price Editor Tool
Import manual prices more quickly, with a major performance boost
Let's dive into these features a little further!
Using Shopify prices
Our new Price Engine lets you create B2B pricing rules based on existing pricing within a Shopify store, such as the main Shopify "Price", the "Compare-at price", and soon the "Cost" price.

For example, you could set a B2B price list that is simply 50% off your Shopify prices, and every time you update your pricing in Shopify, this automatically reflects for your B2B customers.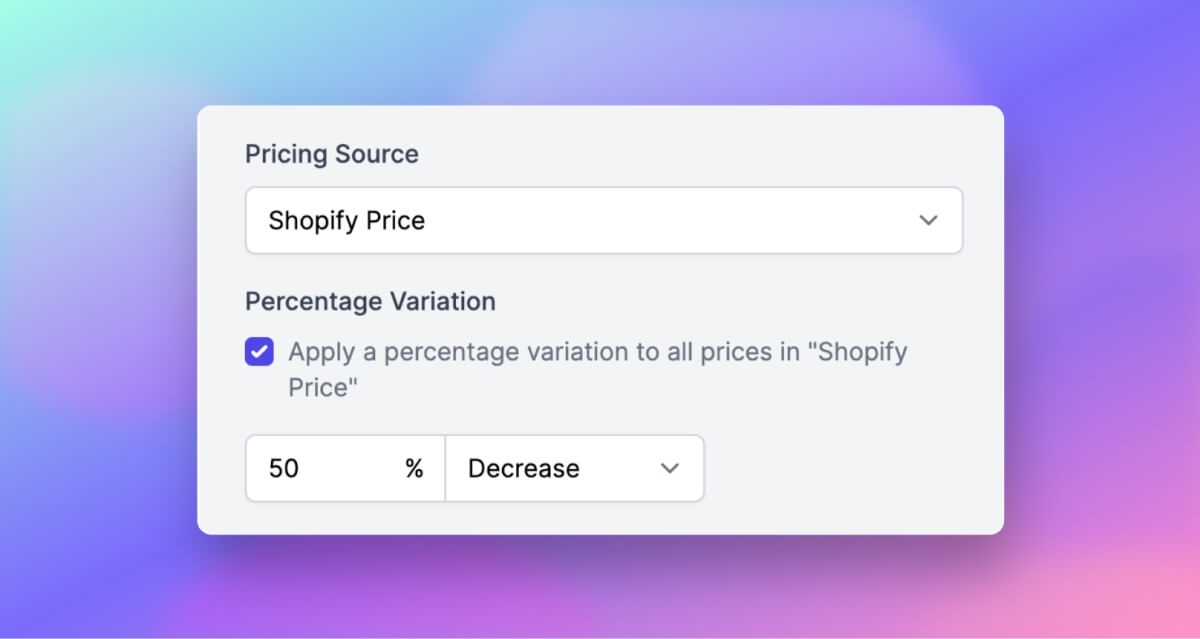 The Price Engine also has provisions for multiple-currencies and even ways to account for tax for B2B customers (e.g. net pricing). You can learn more here about how pricing from Shopify works.
Setting up automatic pricing
Similar to the automatic pricing from Shopify noted above, you can now set automatic pricing based on other B2B price lists already in Sparklayer. Let's say you have a "default" price list for your wholesale customers that you've already configured. For a specific customer group, you want to give them a blanket 20% off this price list.
In just a few clicks, you can easily set this up and any time the default pricing changes, this will automatically update any other associated price lists. You can learn more here about how it works.
Downloading price lists
A really common request from customers was to be able to quickly export an entire price list to use as a reference or make edits to and re-upload. This is now possible via the new Price Engine and any manually uploaded price list can be exported as a CSV file.
Editing pricing "inline"
The Price Editor Tool allows you to easily add and edit pricing in a more "adhoc" manner. For example, perhaps you need to edit a single price for a product and add a new one, and you'd prefer not to upload a new CSV file to do this.

The Price Editor Tool works by letting you search for a product SKU and then edit and add pricing inline, allowing you to rapidly modify your B2B pricing. It's a great way to change prices in a more agile way if speed is of the essence!
Round up
The new SparkLayer Price Engine is a big leap forward in how B2B pricing can be managed for merchants, giving them a new toolset to help automate and streamline their B2B operations. Considerable focus has been placed on ways to help merchants save time and this release is one of many future updates that will continue to make B2B eCommerce even simpler for brands looking to grow their business.
Explore more
If you'd like to learn more about our new Price Engine you can explore our documentation here. If you'd like to discuss how SparkLayer can help you, we'd love to hear from you!
Rhys possesses extensive experience in eCommerce and SaaS-based products, including leading fast and agile teams implementing high-level software architecture. He holds a BSc Hons in Computer Science from the University of West of England. Outside of work, Rhys enjoys outdoor activities such as climbing, urban exploration, hiking, and traveling, in addition to taking care of his feline companion at home!