Asmodee UK, operated by Esdevium Games Limited as part of the Asmodee Group which is owned by Embracer, is an established distributor in the board and card games industry. Asmodee UK supplies many of the UK's favourite board game retailers with the latest and top-rated board and card games, such as Dobble, which has been ranked one of the bestselling games for several years in a row.
Asmodee UK is one of the biggest suppliers of physical games to the UK market supplying a range of National, online, and independent retailers. They stock an extensive range (6000+) of products.
Like many businesses Asmodee UK see the opportunity for reducing costs and improving customer satisfaction by trading through ecommerce facilities. A decision was made to build a new website on Shopify, which was completed in October 2021. One of the reasons for choosing Shopify's scalable solution was the potential to use different apps alongside it to enhance their offering.
In the back-office, Asmodee UK uses SAPB1 to support O2C and P2P processes, SAPB1 is their source of truth and is integrated with a number supplementary systems including Shopify to provide a functionally rich architecture.
Shopify is predominantly a B2C platform and lacks the native depth of functionality B2B businesses require and we were delighted when the team chose SparkLayer to support their B2B store.

The challenge
Asmodee UK experienced significant growth from in the last decade and needed to scale up its operations in order to meet this demand. Shopify were selected because it overcomes particular issues, however, in choosing Shopify it presented its own challenges to make the platform suitable for B2B. For example, pricing structures unique to trade, having parent/child accounts for companies, and the ability for customers to rapidly import their orders through a CSV file.
A solution was needed to overcome functionality deficiencies of Shopify's simplistic approach to pricing and create a smooth buying experience for Asmodee UK's customers.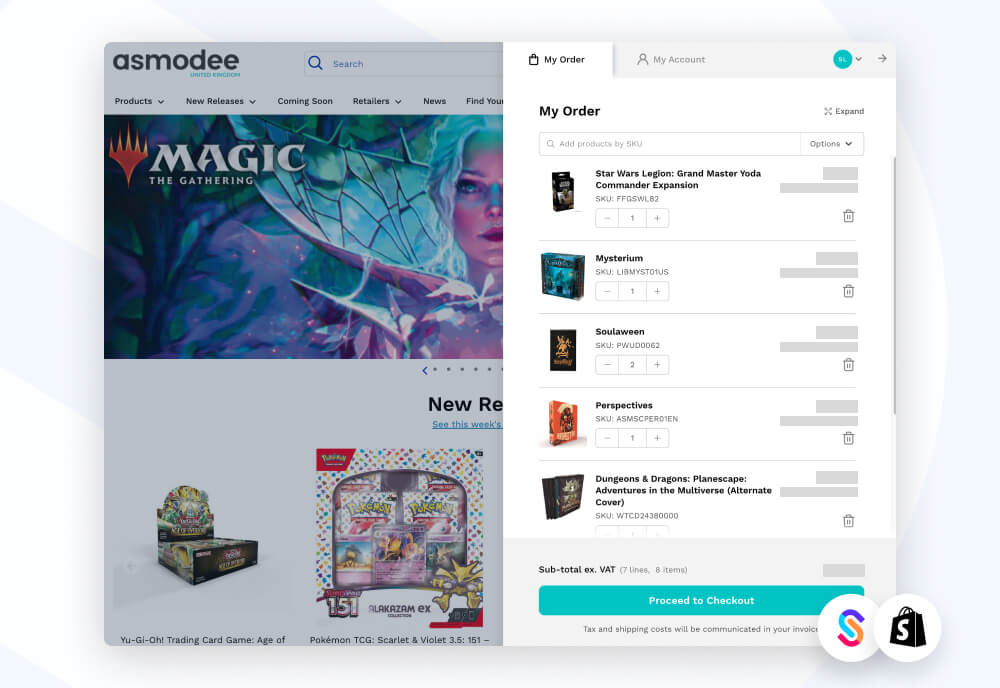 The solution
Asmodee UK implemented SparkLayer into a B2B Shopify store to replicate the pricing functionality of SAPB1 to efficiently generate orders via Shopify. With SparkLayer installed, this has now allowed:
Self-service ordering for customers with 24/7 access
Customers get full visibility of pricing as well as volumetric pricing tiers.
Access to live stock feeds
Customers can manage their account, make repeat purchases and create shopping lists
Ability to upload spreadsheets to populate a basket with orders – meaning that customers have flexibility to order how they'd like to. This was highly demanded by Asmodee UK's customers due to the high number of SKUs.
Sales Agent access for the sales reps to process orders on customer behalf and work with customer orders
The sales team are able to use Sales Agent functionality to collaboratively build baskets with their customers in order to suggest new products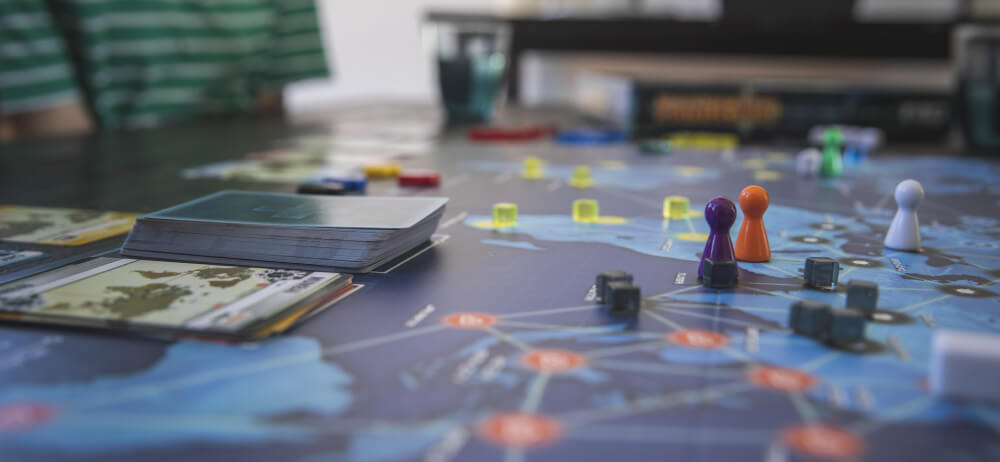 Overall the functionality fulfilled promises that had been made to customers for several years to be able to order in a more sophisticated way. Asmodee UK was historically on a legacy platform, where it had tried to make B2B work, but in the end decided to move to Shopify with SparkLayer. They praised the SparkLayer team for keeping the scope tight, whilst meeting customisation and integration work needed to fulfil the brief.
The results
With SparkLayer integrating seamlessly with Shopify, this has brought a number of other key improvements:
All B2B orders are pushed directly into Shopify, then into SAP, negating the need to input orders manually, and meaning their source of truth is always up to date.
The sales team have found it much easier to process orders - they have actively tried to encourage adoption of SparkLayer's system, because it is easier than adding orders to the ERP
Because Asmodee UK has so many SKUs, stock management and visibility is a big challenge. Retailers are fearful that they may miss out on certain products due to their high demand. Now, they can quickly see on the website, and have found it beneficial to see stock levels there on the site for them to assess how much is available.
A big improvement has also been gained by having images on the product pages. Many of Asmodee UK's SKUs are incredibly similar and can be difficult to differentiate through title alone (think of the number of miniatures and components there are for painting!).
The team have launched the capability for full self-service customers (not managed by Sales Agents), with 70 customers on the platform so far, placing self-service orders. They are anticipating high adoption due to how frequently this functionality is requested.
"Implementing SparkLayer meant we were able to prove the value of taking B2B online quickly to our internal stakeholders. It also meant that we have rapidly been able to provide a differentiated and improved customer experience for our customers. Keeping the scope focussed and tight, meant we could deliver the things which added the most impact, and the SparkLayer team really helped us to achieve this." ~ Sophie Redgell, Digital and Ecommerce Marketing Manager
Explore more
To learn more about Asmodee UK, their product range, and the story of their brand, visit their website.
To see how SparkLayer works with Shopify, you can explore via the links below:
Alex has spent the last 7 years in the eCommerce space, working for technologies from email marketing, to back-office operations, and now B2B eCommerce. Alex has worked with some of the top eCommerce brands globally across his time in the industry, and has forged many successful partnerships for the tech companies he's worked for. At SparkLayer, Alex is responsible for the commercial strategy of the business. Outside of work, he spends his time out walking with his wife, and dog. He also enjoys watching Leicester City, and playing golf, running and spending time with family.